2019 CGA Four-Ball Tee Off at PGA National:
Jamaica Leads in 4 Categories & Puerto Rico Overall Best
This week 62 golfers from 8 Caribbean countries are competing in the 2019 CGA Four-Ball hosted by the Caribbean Golf Association at PGA National's Champion Course (Home of The PGA Tour Honda Classic and The Famous "Bear Trap"), Thursday, October 10, through Saturday, October 12.

Jamaica claims lead in 4 out of 5 Flights in Round 1, however, Puerto Rico edges Jamaica out of the top spot with 22 points to Jamaica's 21 points in the Ambrose Gouthro Cup for the Overall Best Performing Country.
In the Francis & Steele-Perkins Cup Flight for Men 50+, Jamaicans Mark Newnham and Sean Morris were in fine form shooting a whopping 7-under for 65. Followed by their team-mates Rory Jardine and Owen Samuda with 2-under at 70. Fernando Diaz and Miguel Santin of Puerto Rico ended the day with 1-over for 73.

Erick Morales and Tommy Smith of Puerto Rico top the Ramon Baez Romano Trophy Flight (Men 35+) with 2-under at 70. Cayman Islands' Joel Dodson and Richard Hastings follow with 2-over for 74. John Henry and Rodney Phillip from Trinidad and Tobago in third shooting 4-over for 76.

The Higgs & Higgs Trophy Flight (men 60+) had Jamaica's Dorrel Allen and Robert Chin in the lead with 2-over for 74. Calixto Colón and Carlos Matos followed with 4-over at 76. Barbados represented by Carlsen Leacock and Robert Piggott played 5-over for 77.

In the Ladies divisions, Jodi Munn-Barrow and Alison Reid of Jamaica topped the Maria Nunes Trophy Flight (Ladies 35+) with 8-over for 80. Followed by Puerto Rico with Rebekah Alfond and Marilina Silen shooting 11-over for 83. The Dessie Henry Trophy Flight (Ladies 50+) was led by Jamaican team Michelle Gabay and Maggie Lyn with 9-over for 81. Amoy Chang Fong and Pauline Raynor of Trinidad and Tobago finished the day with 10-over for 82.

The 2019 CGA Four-Ball Championships opened on October 9, at the PGA National Resort & Spa. During the Opening Ceremony, the CGA held a raffle which raised and contributed US$2,240 to Bahamas in support of the Hurricane Dorian relief efforts! Rick Sanmiya of Turks & Caicos Islands won the raffle which raised US$1640 and immediately donated his prize for auction which raised an additional $600 with a winning bid from Tracy Moore. Anthony Hinsey, Vice President of Bahamas Golf Federation presented the prize of 2 days/1 night at PGA National with a round of golf for 2.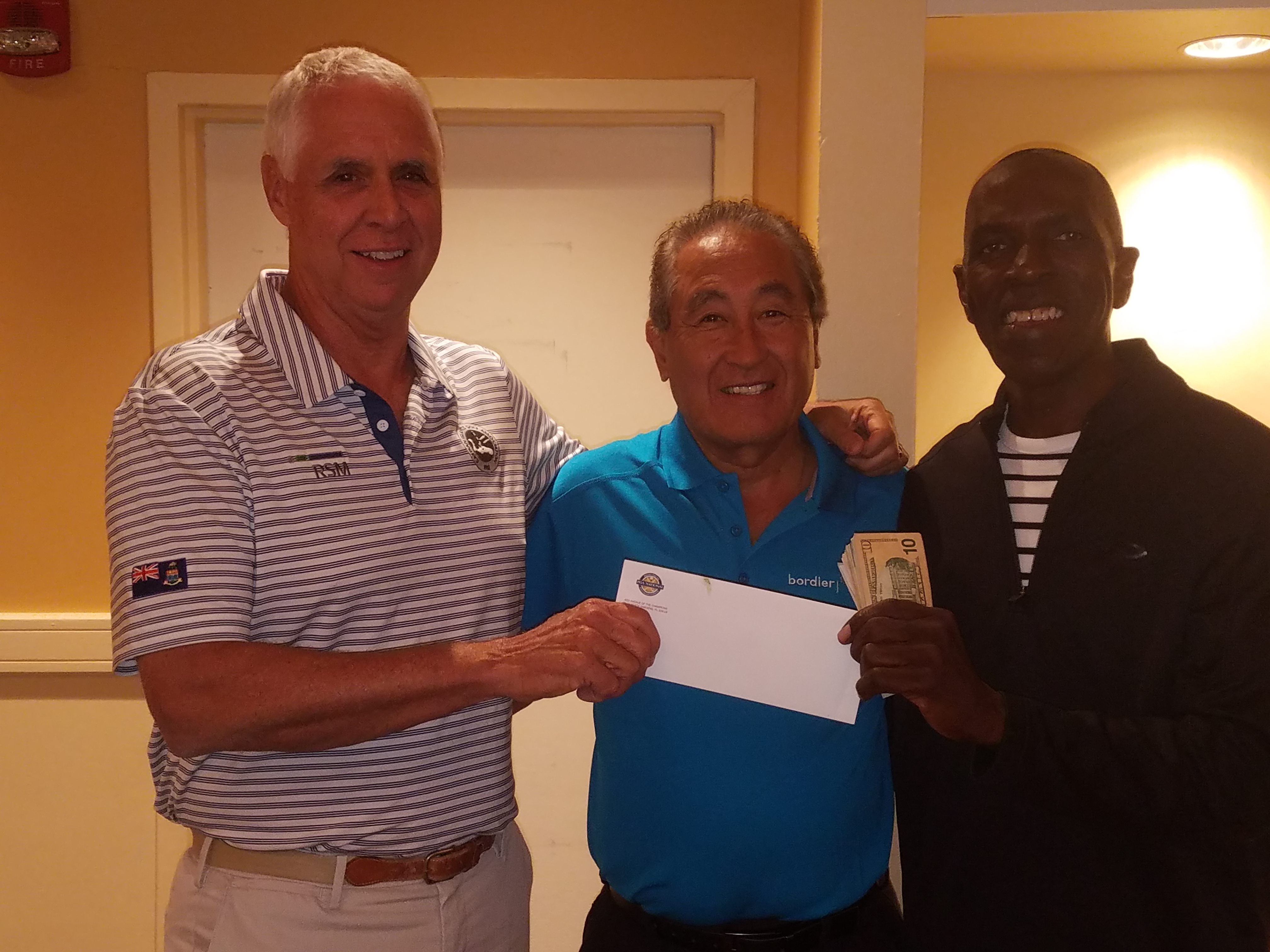 Pictured: Rick Sanmiya (centre) winner of the raffle who donated his prize for auction, Tracy Moore (left) who won the auction
for the same prize, and Anthony Hinsey Vice President of BFF presenting the prize of 2 days/1 night at PGA National with a
round of golf for 2. It was a good night!
"Our neighbours have faced a devastating natural disaster in the form of Hurricane Dorian. The Caribbean golfing family will do everything it can to rally and support the rebuilding efforts in The Bahamas. In fact, Puerto Rican golfer Rafa Campos pledged money for every birdie totaling $700. This was matched by the PRGA and $1400 was recently donated," said CGA President Sidney Wolf. "It is important for all our golf associations in the region to support to this ongoing relief effort."

The 2019 CGA Four-Ball Championships will see the best of the Caribbean's mid-amateurs, seniors, and super-seniors competing. Who will win in each category? Which country will take home the coveted Ambrose Gouthro Cup?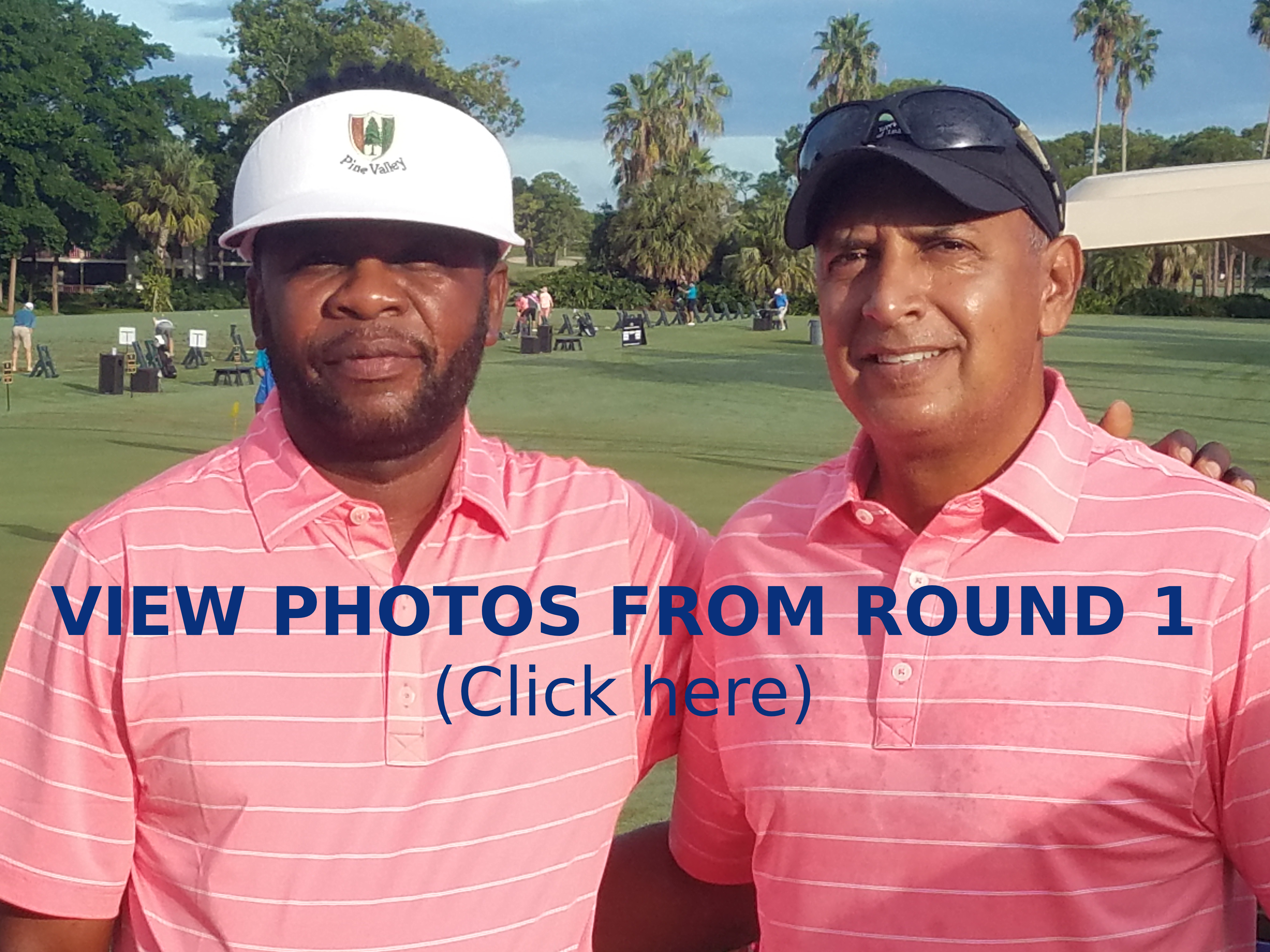 Follow all the scoring and view pictures at the Caribbean Golf Association's web page and on social media (Facebook and Instagram).